April 23, 2012
Amuse-Bouche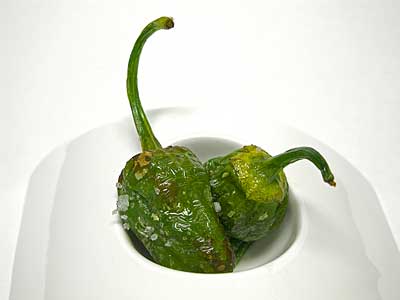 pementos de Padrón
(padron peppers)
Thursday night, June 23rd, 2011—my wife and I land at Aeroport del Prat and head for our hotel in Barcelona. For four nights, we'll be based near the eastern corner of the Barri Gòtic, where Barcelona originated and where today tourists throng. This is our first trip to Spain, and we've come to see the highlights and eat. Everything we've heard pointed to Spain as a great place to eat. Sightseeing was planned as something to do between meals.
Unbeknownst to us is that the following day is the Feast of St. John, and much of the town would be shut down. The first night, our main problem is the sound of kids setting off firecrackers and larger explosives. Our hotel room overlooks an alley popular with the locals because the sound resonates and amplifies so well.
Before leaving home, looking at the Internet and getting advice from friends and family, it seemed that the most popular tapas restaurant in Barcelona is called Cal Pep. Using Google maps, it looked like it would take about a minute to walk from our hotel to this restaurant. So after checking in, making sure the Internet functioned fine, and taking a short nap, we headed out from our hotel at the respectable time of ten in the evening.
As we rounded the corner from Avinguda Marqués de l'Argentera onto Carrer Vidrieria, we immediately noticed something missing. There were no people filling the space in Plaça de les Olles in front of Cal Pep. Everything that we had read led us to expect to have to wait in line in order to eat. As we walked closer, we could see why there was no line. The restaurant was closed. A sign outside said that they were closed for the weekend and would open Monday at noon. (Our plane to Granada was scheduled to leave Monday at 8:35 in the morning.) So we decided to amble further into the Barri Gòtic in search of food.
After a bit a wandering, we found another tapas bar that didn't look too touristy and that had outdoor seating. Fifty euros later, we left feeling almost full and hoping that future meals would have more flavor. We didn't know that we would desire more flavor from many of the meals we would have over the next couple of weeks. (It would turn out that the best tapas we had on the trip would be in Paris, not Spain.)
On our return route from sightseeing the following day, we passed through Plaça de les Olles again, but from a different direction. This brought us by another tapas bar called Celler de la Ribera. They had a couple of their menus sitting outside on a stand in the square, along with a number of empty tables. I perused the menu. I liked what I saw. Not because I could understand what each item was, but the menu had a very nice graphic design. It was in black and white, and the design was somewhat sparse. The font, as well as the rest of the menu and even the restaurant, had a modern, yet warm, feeling to it. I suggested to my wife that we come back later for dinner. Besides, it was open, something that I couldn't say for a lot of the restaurants in the area that day.
After resting and watching a few episodes of Upstairs, Downstairs on our iPad, 10 o'clock rolled around, and we headed off to dinner. When we got to the restaurant, which late in the afternoon had been almost deserted, it was crowded and a line awaited admittance. I had a short conversation with a gentleman dressed all in black near the entrance, and he said that if I didn't mind sitting inside (in the air conditioning), he'd be able to seat us in five minutes. It was more like three.
Shortly after we sat down and had a chance to look at the menu, another guy dressed in black came by and took our order. Almost immediately, he brought us a bowl full of what appeared to be deep‑fried green peppers sprinkled with lots of salt. The peppers looked like short, stubby shishito peppers. I would later learn that they are called pementos de Padrón in the Galician language, the language of the northwestern region of Spain where the town of Padrón is located. I asked the waiter about the peppers. After all, we hadn't ordered them. He said that if we didn't like them, he wouldn't charge us.
We loved them. The restaurant had many interesting items to choose from, and all were presented in an attractive manner unique to each dish. Two out of the three best meals we had in Barcelona—actually in all of Spain—were at Celler de la Ribera.
On the Sunday morning following our return home, we went to our usual morning coffee shop for Sunday breakfast. On Sundays, one of the Palo Alto farmers markets takes place on the same block where the restaurant is located. As usual, by the time we got to the restaurant, there was a line out front. After putting our name on the waiting list, we went for stroll through the market. And wouldn't you know it, we found padron peppers. The price was steep, $3.50 for a small basket. But I wanted those peppers and probably would have paid more.
Since that Sunday, I've seen the peppers at many farmer's stalls. I don't remember seeing them before this year, but they may have been there. Some websites claim that they have been in the U.S. for less than ten years. For me, they are so pervasive now that they are even grown where I teach at the San Mateo County Jail. I've gotten buckets full of them from the jail. I've had so many since I returned from Spain that I want the season to be over.
The padron pepper is a mostly mild, sweet pepper with a thin skin from the Capsicum annuum family. I say mostly because occasionally, one or two, usually larger specimens, will be hot. But even the hot ones are a sweet hot and not disturbing like most hot peppers.
To prepare them, I simply cook them quickly in hot oil until the skin blisters a little. (I use canola oil, but I'm told the Spanish favor olive oil for this.) They are then drained quickly on absorbent paper and tossed with coarse salt. I usually use fleur de sel for this purpose. They should be served immediately. They are eaten with your fingers. The whole pepper is edible, but most people don't eat the stems.