July 16, 2012
Amuse-Bouche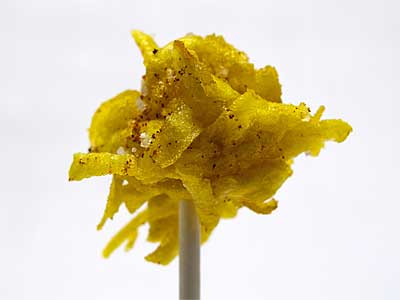 « lollipops » de banane plantain
(plantain lollipops)
What the hell are plantains? I know what bananas are—at least the ones my mother used to put in my bag lunch for school. I've had banana splits, banana milkshakes, chocolate‑covered bananas, banana chips, finger bananas, and food cooked in a banana leaf. Bananas is one of my favorite Woody Allan movies. I even once shopped in a Banana Republic. But what is a plantain?
Apparently, at least botanically speaking, there is no difference between plantains and dessert bananas other than how they are used: dessert bananas make for fine eating raw whereas plantains are usually cooked. Plantains are actually one of the major global sources of starch in the world's diet. Uganda, followed by Columbia, is the largest producer of plantains.
Why am I all of a sudden asking about plantains? Because in November of 2011, I attended the World of Flavors Conference at the Culinary Institute of America in St. Helena, California. One of the presenters, I don't recall her name or where she was from, was demonstrating a snack of grated plantains. Even though I didn't get to taste the snack at the conference, the concept intrigued me. It sounded so simple.
On my drive home from the conference, I stopped to picked up some groceries at a local market. And what was on sale in the vegetable department? Plantains. So I purchased a big green one for fifty cents, and brought it home. It was still early enough that I decided to try the recipe that night. The result wasn't quite impeccable but close enough. The following night produced the following recipe and the picture above.
By the way, my large plantain produced about 15 lollipops.
1. Peel the plantain and grate using the large holes on a box grater.
2. Heat vegetable oil to 150 °C (300 °F).
3. While the oil is heating, form the grated plantain in crude, small (2‑cm [
3
⁄
4
‑in]) balls.
4. When the oil is hot, fry the plantain balls in a single layer until crisp and slightly golden. As they become cooked, remove the balls, and drain on absorbent paper.
5. Insert a lollipop stick into each ball. Holding each lollipop by its stick, sprinkle with fleur de sel and pepper powder.
6. Serve while still hot.