March 19, 2012
Amuse-Bouche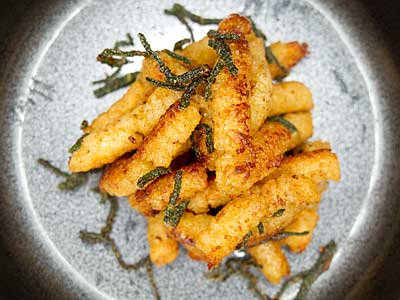 (cheese noodles)
Did you know that there is an International Culinary Tourism Association? Until a few years ago, I didn't even know I was a culinary tourist, let alone there was an association for the likes of me. I think without realizing it, I've been a culinary tourist most of my life. I've never passed up an opportunity to visit a food processing facility—it was about fifty years ago that I visited my first cheese factory in Tillamook, Oregon. Earlier than that, when my parents would go to the California State Fair, visiting the milking barn was always a highlight for me. We had relatives with a chicken farm in Fortuna, California, and I was all of three or four when I was first allowed to walk among the chickens.
More recently, on my way to China in 1980, I had a layover in Narita, Japan. I spent most of the free morning watching a fishmonger kill, gut, and skin small eels outside his shop. Later in China, although the subject of my visit was not food, I spent much of my free time experiencing the local food of the neighborhoods I visited. Watching women on the street near my hotel in Xian making yóutiáo (油條) each morning was a highlight. I snuck into as many kitchens as I could find. I was already well aware that I could learn much by just watching, even if due to language issues, I would never get my endless questions answered.
A few years later, when my wife and I were walking through a passage between a couple of buildings in Carmel, California, we stumbled upon a large picture window that revealed the full restaurant kitchen during dinner service. We spent more than an hour watching the cooks go about their various tasks. By then, a lot of what I witnessed served as reinforcement for previous knowledge, but I still managed to learn a few new things. With careful observation, the "secret handshakes" always seem to appear.
In 1997, I experienced my first formal culinary tourism trip. As much as I learned about food, I found my fellow culinary tourists not interested in the same tidbits as me. I wanted to learn processes from start to finish; they were mainly interested in eating and shopping. When we went to a medieval walnut mill, their interest was in purchasing the oil whereas I was more interested in understanding the process of producing it. In subsequent tours, I had similar problems. People couldn't understand why I wanted to work in the kitchen of some Michelin‑starred restaurant while they went to a local spa to relax.
So this year, when I had an opportunity to join a group of culinary tourists visiting the Emilia‑Romagna for a week—the program was titled "Preserving in Italy," and promised "A unique opportunity to learn the art of salumi, cured fish and preserves at the seasoned hands of the DellaPasqua family and their trusted norcino in one of Italy's great culinary regions"—I decided to take advantage of the trip's reasonable pricing and spend a week in Italy. It had been five years since my previous culinary tour, and I had tucked all the bad memories away somewhere deep in my consciousness. Luckily, only a few were brought back to life on this trip.
The trip only yielded a few "wake‑up moments" and mostly on the last day. The tour of the prosciutto di Parma factory was interesting and not as artisanal as one may picture. The tour of the "artisanal Parmesan cheese producer" was enjoyable, and displayed a process that was as much of a factory operation as most cheese producers I've visited over the years. It also produced one of those events that remind me why I don't like other culinary tourists. While the guide was describing for me the transformation from long‑chain amino acids to short‑chain amino acids that the cheese took during aging, one of my fellow tourists interrupted to say that we (meaning she) weren't here for the a science lesson, and that we should move on with the tour. Here the guide was describing what made Parmigiano‑Reggiano unique, and this person would have none of it.
The morning of the last day was like an "E‑ticket" ride at Disneyland. Working with two delightful nonnas, I made pasta without the aid of my food processor or electric pasta machine. Never before had I rolled out pasta by hand. There's a "secret handshake" that made it possible, and as far as I could tell, it went unnoticed by all of my fellow students that morning. I'm not even sure if the nonnas realized the physics behind something they had been doing all their lives. I learned how to make a number of shapes of fresh pasta, and how to fold filled squares of pasta into cappelletti, which would be perfect for an amuse‑bouche.
Another fascinating pasta was the passatelli. The dough was mostly a mixture of breadcrumbs, Parmesan cheese, and eggs. After hydrating for a while, the dough was pressed into boiling broth through a plate filled with holes in a device that looked like a cylindrical potato ricer directly. The two were then served together as passatelli en brodo. The passatelli were also served with a light fish sauce. When I tasted the raw dough and then the cooked result, I thought passatelli in brown butter with fresh sage.
finely grated Parmesan cheese
2 T
fresh sage, finely sliced
1. Place the cheese, breadcrumbs, flour, nutmeg, and eggs in the bowl of a food processor, and process until the mixture comes together. Transfer the mixture to a piece of plastic wrap, and wrap tightly. Refrigerate until the dough is hydrated, at least an hour—overnight is better.
2. Bring a large pot of salted water to a boil. Divide the dough into four flat disks. Using a cylinder‑type ricer fitted with a plate with 4.5 mm (0.175 in) holes, or a passatelli press, extrude the pasta directly into the boiling water. When it floats, cook for an additional minute. Drain briefly, and refresh under cold water. Drain well.
3. Refrigerate the pasta until needed.
4. In a large frying pan set over medium‑high heat, melt the butter until it starts to brown. Add the sage and the pasta. Fry, tossing often, until browned. Season lightly with salt. Drain any excess butter.
5. Divide the pasta between individual serving bowls.
Yield: 16 servings.